I am still battling the cold that has no end -- actually I am beginning to think it is an entirely different cold that has laid siege upon my body, since today it seems to be attacking my sinuses --- I do feel somewhat better.
You do know what comes
after the rain?
I mean, besides the rainbow.
Thanks Left Brain.
I think I know what someone wants for Christmas! (and New Years Eve, and then New Year's Day, and the day after that, and the day following......)
So now that we are in chipper spirits, let's have some fun at the beach.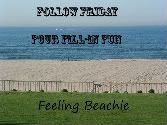 1.
Reading a good book with the tree and fire all aglow, and Christmas music in the background
is my ideal winter night.
2.
I don't remember the last time I
danced,
but I really want to. I think I may even remember how.
3.
I will never turn down
coffee or chocolate
. Was there any doubt? If you give me both, you've got a friend for life.
4.
To save money I like to
not spend it.
Some things really are that straight-forward.
Have a great weekend everyone!
P.S. Finally finished the one Christmas decoration that was missing in our home:
All I had was actually a Halloween haunted mansion gingerbread kit. Hence the orange and purple icing. I am calling it "rope lights". You can't see the jet black icing that is the glue holding the houses together. I guess I should have figured the decorating candy would be black cats, bats and white ghosts too. Nightmare Before Christmas - ah, the kids wouldn't get it. So I had to scramble for more appropriate candies.
Meh. I am not the expert.
My cousin Paul over at
The Ossington Kitchen
- now he is the expert.
Come back for
Tuesday's Coffee Chat
and you will see what I mean.