H
ello Friday! HA -- thought I would make the usual comment about same old, same old? Nay, nay.
I hear around the blogosphere that November is the month to express your thankfulness. Guessing this is based on American Thanksgiving holiday which is approaching. Well, I already had me some turkey last month, but I wouldn't want to be accused of not being neighbourly. Therefore:
Grandma is coming to town! Yay!
I am indeed thankful for my loving mommy. There is not much I enjoy right now more than watching her with her grandchildren.
Is there some awkward sentence structure going on right now, or is it just me? Must be all the cold meds I have consumed this week in effort to not break any ribs with my constant coughing.
Best get right to this week's questions before all rules of grammar are completely lost.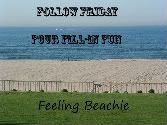 Along with our lovely host Hilary, our co-host this week is Irene from
The Soapbox
, who thought of the last two questions.
You know the drill: copy the questions, complete as you will, link up and Spread the Word!
1. I have never been to
Australia.
Dream vacation. And I intend to do it right. No flying in for a 1-2 week vacation. I would love to stay for several months. See the opera, the outback, a cattle ranch. The whole experience. You got room for me that long
Kerry?
LOL
2. I hate to admit it, but sometimes I tend to be
impatient.
I am trying to improve, but darn it.....it's just taking too long!
3. If I didn't have
my Bible
I'd be completely lost. An addiction I plan on keeping.
4.
Losing the bra
at the end of the day is always the best feeling in the world. That's the true Vic's secret!
Have a Great Weekend everyone.
Don't forget to hug your mom.