I've just returned from my weekly womans' Bible study, and frankly I am exhausted. This "breaking free" business is very tiring; emotionally speaking. But oh the rewards.....thus far, fantastic. Will share more on that at a later date.
Let's skip the chit-chat and get right to this weeks questions from Hilary, and this week's co host,
Cathy Kennedy.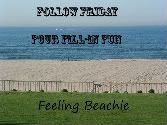 1. I am afraid of
driving.
Actually, I think technically, it's the sudden stopping - in the midst of driving that scares me. As in, *crash*. Although, I have become much more relaxed in recent years.
2. My
back deck
is my favourite room of my house. Yes, it's an outdoor room. That means I can only use it during summer. Not entirely practical for a favourite room. And it's in terrible shape. It's more what that space represents: a future 4 season sun room, filled with light and plants, with a very comfy, deep couch perfect for reading, or a wonderful view of my gardens; and empty of children. It's a nice dream.
3. The last time I
visited my hometown,
I couldn't
believe how much it had changed.
It is not the little city by the lake of my youth. But for the most part, it's still a great city.
4. I got my first
car
when I was
almost 33 years old!
Seriously. As per #1 reply, I preferred public transit, or taxi to being on the road with other humans more interested in the radio, their coffee and smoke, or their phone, than on driving. Plus, I was busy paying off a student loan at the time and didn't want to spend the money. I wanted to travel instead. Apparently, I have no problem with flying 35,000 feet above the earth.
That's all folks.
Have a great weekend.