O
n the homefront?
Here are your clues:
long weekend, no school Monday, laundry and packing, "gobble, gobble."
That can only mean one thing: Road Trip to Grandma and Grandpa's!
For you non-Canucks, this weekend is our Thanksgiving Holiday (technically, the Monday). So I am loading up the van, and the kids and taking another journey down the highway....only this one will not be lonesome! *eye-roll*
But first, quick pit stop to the Beach!
Each week, our host Hilary - and sometimes a co-host, provide 4 questions with blanks that complete. Then link up and see how others replied. That easy! Spread the word, eh. The more the merrier.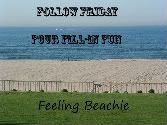 Somehow, almost all sports come(s) naturally to me. Which is strange since I think of myself as a wanna-be-writer-cum-poet-cum-interior designer.
I could spend hours in a book store. Or the local library.
If money and time were no consideration, today I would hop on a plane and take the kids to Disney Land. They so want to go, and we could soooo use a real holiday.
You should always take time to smell the flowers. Life moves pretty fast, if you're not careful, it might pass you by! (Save Ferris!)
Short and sweet this week folks!
This mama will be one busy bee tomorrow.
Have a great weekend everyone, and to my fellow Canadians......let's give thanks - and Eat!