The warm weather has all but left us behind and a chilly rain has enveloped us for the majority of this week. Time to start putting the garden things away and bury my delicate blooms beneath a warm, leafy layer.
Fine....I don't want to actually rake said leaves up. But I swear, a nice thick layer has protected many a less hardy bloom that may or may not be intended for this climate.
And since it is getting cooler outside and darker earlier, thoughts are turning to some seasonal baking that must be done. With all the berries I froze over summer, we were due for some nice home-made jam. (done in my bread maker: you can find the recipe
HERE
- say hello to my cousin while you're there.)
triple berry jam for breakie today
Breakfast and coffee in hand, let's get right to this week's questions. Go visit Hilary and link up your own to play along. Spread the word.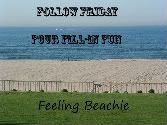 1.
Scrubbing bathrooms
is my least favorite household chore. Yet, I cannot stand the look of a dirty bathroom. go figure.
2.
Historical Romances are
(is) my guilty pleasure. Ssshhhh, don't tell
Western
or they might ask for that expensive piece of paper back. But I just can't resist such tempting literary morsels like this:
"Do I perceive a softening in your heart for me, damoiselle?" He laughed at her scowl. "Beware maid. I will tell you true. After you will come another and then another. There are no strings that can tether me to any woman. So guard your heart."
"My lord, you greatly exaggerate your appeal," she replied indignantly. "If I fell anything for you, 'tis hatred. You are the enemy and you are to be despised as such."
"Indeed?" He smiled slowly into her eyes.
"Then tell me, damoiselle, do you always kiss the enemy so warmly?"
―
Kathleen E. Woodiwiss
,
The Wolf and the Dove
middle of dancing in my kitchen while cooking
, I think, "
you're 40, and have 3 kids, you should really stop this....or at least close the blinds
."
4. My favorite
toy
for
play-time
is
Barbie. Still.
I may even get her dressed in her finest, and re-enact the romantic scene above with Ken. After my daughters are in bed of course.
Oh, and my MIL stopped by on her way home from Thunder Bay last night.
Which of course means:
Persians in da House!!
Have a great weekend everyone!