So....back to school for Monkey Boy! Grade 2.
He was kind of excited. He missed some of his friends.
He Loves the social aspect of school.
It may have also been the Pilsbury shortbread cookies with the bus image on them, and powder-sugar donuts I had for all the kids at the bus stop. (Yes, I AM
that
mom.)
First thing he said when he got off the bus?
After, I missed you mommy Of Course!
Yay - I don't have homework.
And so it begins.
Anyhoo, here he is in his favourite Lego Star Wars outfit - despite the (already, really??) chilly morning. Yes, I made him wear a sweatshirt. I am
also
that mom.
Hey, I had the sugar goodies.....
"if it wants the cookie, it puts on the sweatshirt."
not a freaky bus driver....I edited to hide identity
I was okay though. Didn't cry or anything. I was so busy keeping Angel Girl entertained - which means answering the, like, 1 billionth question about JrK -- that I barely missed him. Barely. Afterall, he was already sent to his room for bad behaviour within an hour of arriving home.
Guess what lil Lego dude? You know have homework! Yay!
As always, linking up with
Kiddothings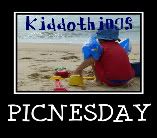 Calling all Poets.

See my virtuous prose
here


Still time to link up your own!