Can it be Friday already? The weeks are just flying by since the kids started school. I am already thinking that I should start my Christmas shopping soon. That is, if I can get some time free from shopping for birthday presents. Between the 2 kids in school -- 3 birthday parties this weekend. There would have been a 4th, but it overlapped one we already RSVP our attendance.
Talk about blowing this week's budget!
Plus, Monkey Boy's 7th birthday is next week, so I have to do all that planning and shopping too.
You do know where there is another fun party, right?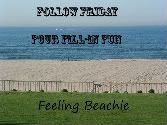 Here's the deal: Hilary (and perhaps a cohost) gives you 4 partial statements, and you fill in the blanks with your answers. Link up, share and compare! Here we go:
1. When I was little, all I wanted was a
pony
. And I got one. Start hating me....now.
2. I always want to love to
drive,
but no matter how hard I try, I don't.
Sometimes, when I am alone with the tunes blasting and the open road before me, I have a moment of heady freedom...and then suddenly I am convinced I am soon to die in a fiery wreck.
3. The
irony
of it all was that
I don't really agree with homework (at this grade level) in the first place!
After school should be MY time with my children -- if I want them to work, I will have them do the dishes.
4. The mist around the mountains makes me
remember that time I got lost up on Whistler Mountain....and that's all I have to say about that.
.... that and I do love them Mounties! Thank ya kindly dear Sir Rescue Lost Maiden.
Not my real rescuer.
please...if HE had rescued me....I'd still be there!
If you have any suggestions, just email Hilary and she'll make you the co-host. And please try to spread the word about this fun meme -- tweet it, like it...whatever, just share! Cuz ya know, the more the merrier!
Have a good weekend everyone!
P.S. I have to give a shout out to Kerry at
It's The Little Things
, who graciously saw fit to bestow not one, but 2 awards upon my wee blog (see Awards tab above). So thank you very much. Since I received them before, I won't bore you with more details about my personage....cause, really... what are you still doing here? Head "Down Under" and meet Kerry.