I
t's a long weekend!! Not sure what our plans are just yet. The kids want to camp in the backyard. Sounds good to me!
So, in case y'all have some big party plans, let's get right to our Friday Fun!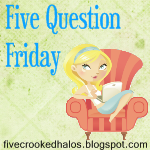 1. S
hoes in the house -

yay

or nay?
Nay. Not because of the dirt though - hah, children are dirty all over, what difference would shoes make? I just don't find it comfortable. The tootsies need to breathe every now and then.
2. W
hat do you call them- flip flops, slippers, thongs, etc?
Flip flops. I've heard them called beach socks too.
3.
What song are you almost

embarrassed

to admit you know all the lyrics to?
MmmmBop! I can't help....it just sticks in your head!
4.
What is the best quality to have in a friend?
Compassion. When a person has true compassion....all else just seems to fall into place. They can laugh and cry with you. They see you at your worst; and not hold it against you. They forgive and forget. They can love through trials.
5. D
o you know what you want for Christmas?
Now that I have kids, I tend to focus on them. Their excitement and wonder is so contagious! Passing on traditions that I have cherished. Starting our own as a family. I love our trip to a tree farm to pick our tree. We decorate it together while having hot chocolate and listening to carols. Watching them in our church's Sunday school performance. Those are the things I think of at holidays.
But if I had to pick something.....I guess a camera for the computer would be cool, so that we could Skype with the grandparents. I might even do a Vlog.
And also, link up with Hilary at
Feeling Beachie
I am a tired mama who would love a real vacation...soon please!
I have dug myself a new garden!! (might be related to above tiredness.)
A walk in the woods makes me feel at peace.
If the coffee pot croaks in the night, I would stay in bed until Tim Hortons delivers.
I will leave you with pics I snapped, too late for Wordless Wednesday and can't wait until next week......check out 23 month old Zoo Zoo's wicked ninja skills!
Have a great weekend everyone!