We had a great family today out
spelunking
. For those who have no idea...that means cave exploring! But more on that later this weekend, right now it's Friday and that means time to link up with Mama M!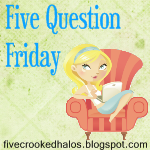 1. Did you make any fun purchases this week?
Most definitely. We bought some nifty cool fossils, rocks and crystals today at the caves we explored. One of the rocks is currently sitting in a cup of vinegar - it's supposed to grow crystals in about 10 days. Other than that, back to school supplies. Angel Girl is handily financing the
Barbie
empire.
2. If you could go to any musical concert, what would it be?
Oh gosh....you mean besides
The Wiggles
, as that is the last concert I saw! LOL. My hometown has this big
Limestone City Blues Festival
every year, that I used to attend in my younger, pre-children days. As much as I would love to see a big name like U2, Katy Perry, or even a great gospel like Chris Tomlin, it's not the same feel as sitting in lawn chair sipping smuggled beer in the can and hearing someone sing the blues.
3. What is your least fav/ most fav house chore?
Well, truthfully, who likes do any chore? that's what it's called a chore after all! I am still struggling with the notion that I am supposed to be serving my family with a loving, non-grumbling while tripping over toys heart. I slid often. But if I must choose.....cleaning the kitchen floor is probably the worst. Mainly because it is dirty 15 minutes later. seems.utterly.pointless
However, I normally enjoy cooking a meal. If the kids are restless or energetic, I just get them doing an appropriate activity. Play doh, painting, coloring at the table. A movie in the adjoining living room. And if they a really spirited......my iPod in the deck and we all dance like crazy while dinner cooks.
4. Would you prefer new appliances or clothes?
Well.....since the SlimFast diet and workout is still going, without much noticeable results it would seem, I will have to go with appliances today. I was actually just coveting a double door, freezer on the bottom stainless steel fridge the other day. Of course, since current appliances are white, would also need stainless steel (and super quiet) dishwasher, and gas stove. Wine fridge optional.
*I am hoping this question will be asked again in a month or 2, and I can proudly answer: I Need New and Smaller Clothes!*
5. Miracle Whip or Mayo?
Odd, I've always been a Miracle Whip girl - but the other day I tried some Hellman's and I really liked it! So maybe I am due for a switch?
The other great Friday Meme is courtesy of
Feeling Beachie
1. I don't remember what
it feels like to wake up truly rested and refreshed.
2. I love a
rainy night, snuggled deep in the downy duvet hearing the rain fall on the roof.
3. When I lose socks in the dryer, I think
"oh well, don't forget to write.
"
4. My favorite snack to eat while watching t.v. is
popcorn.
That's all for today!
Have a great weekend everyone!