Shell at
Things I Can't Say
has another great link up!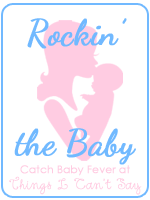 Pick out your favourite baby pics, and head on over and link up. Who would ever get tired of looking at sweet little baby faces!
Without further adieu!
Me. And yes...can still totally put my foot in my mouth!
Firstborn, Monkey Boy
6 years later....still has that pout most days!
Although, Left Brain wanted me to post this one:
wassup!
Middle Child, Angel Girl
one of my faves
And last, but not least, the one that can grow hair, Zoo Zoo:
yes, you may pinch those cheeks.
When I was looking through the pics of MB and Zoo Zoo, it was startling to see how much they looked alike as babies. And even more so that Angel Girl has a completely different look.
Still, at the end of the day, their cuteness has saved their lives on more than one occassion!