Normally, I would be linking up over at
My Little Life
I will include the link below if you are visiting and want to participate. Next Friday I will be back to playing the 5 Question game.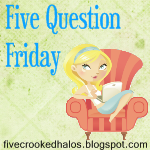 But THIS Friday.....this day, I cannot tell a lie. I will be glued. Fascinated. "Ew-Aweing" the dress. And not just because I am Canadian, and thus, still somewhat mesmerized by them. I just can't help it. I
love
a good love story!
Oh yes!
I will be watching.
(well, the PVR is set anyway....I'm not completely crazy.)
I am really crossing my fingers for these two.
Starlight, starbright
Just this once upon a time
please ...
.... can they live happily ever after?
SSSSQQQQQUUEEEEEE!!
(a more dignified and fitting post to follow)