You see the title....you know the game! Link up: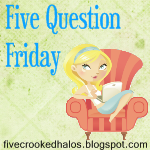 1. What is your favorite Easter tradition?
Okay, since I am Christian, I could say that I love the special services at Church, and that is great. Proclaiming the Good News that Jesus is Risen! But I also am a wee bit girlie girl sometimes, plus, I cannot tell a lie: love getting that new Easter outfit! I just went out today and got a new outfit for all 3 kids. Too bad I couldn't get the cute little sundresses for the girls.....there be frost on the ground!
2. Are you a "shower" or a "long, hot bath" kind of person?
Get me a good book, something cool to drink, a light snack perhaps....see you in a hour. Seriously.
3. C
an you

parallel

park and if so when is the last time you did it?
Technically, yes I can parallel park, and I often did do it when I had my Honda CR-V....and was alone in the car. listening to some great tunes. Now that we have 3 children and thus am forced to drive a boat minivan, with 3 noisy kids singing along to Fisher Price tunes.....nah, not so much. If the only spot available at the grocery store was one I had to parallel park in.....well, McDonald's is right next door, and they let you drive right thru!
4.
What is your

favorite

Easter candy?
I remember these from my childhood.
They used to make a peanut butter one too, but I haven't seen in recent years. that's okay, much prefer these:
Many moons ago, I would have been begging my mom for this:
5.
Easter: do you go all out with the Easter Bunny or focus on the religious part of the holiday?
Obviously the religious aspect is very important in this house. We certainly want our children to grow up knowing the real Reason for the Season. However, given their young ages right now, the whole concept of a Saviour dying and rising to save us from our sin, is a little complex for them. They will be in the Easter Services. They will learn about Jesus dying on the cross and the empty tomb in their Sunday School classes. Grace will be said at Easter dinner on Sunday -- and it will be a bit different from the usual Grace. I don't see the need to hit them over the head right now. I think they can enjoy some kids stuff for a few years.
So yes, the Easter bunny will very much be present in our house. I am going all out this year with a scavenger hunt because Monkey Boy will be able to read the clues. The hardest part will be keeping Zoo Zoo (18 mos.) from stealing all their chocolate! She got a hold of a Hershey kiss a few weeks ago......and it was love at first bite!
Happy Easter everyone!
Jesus Lives!